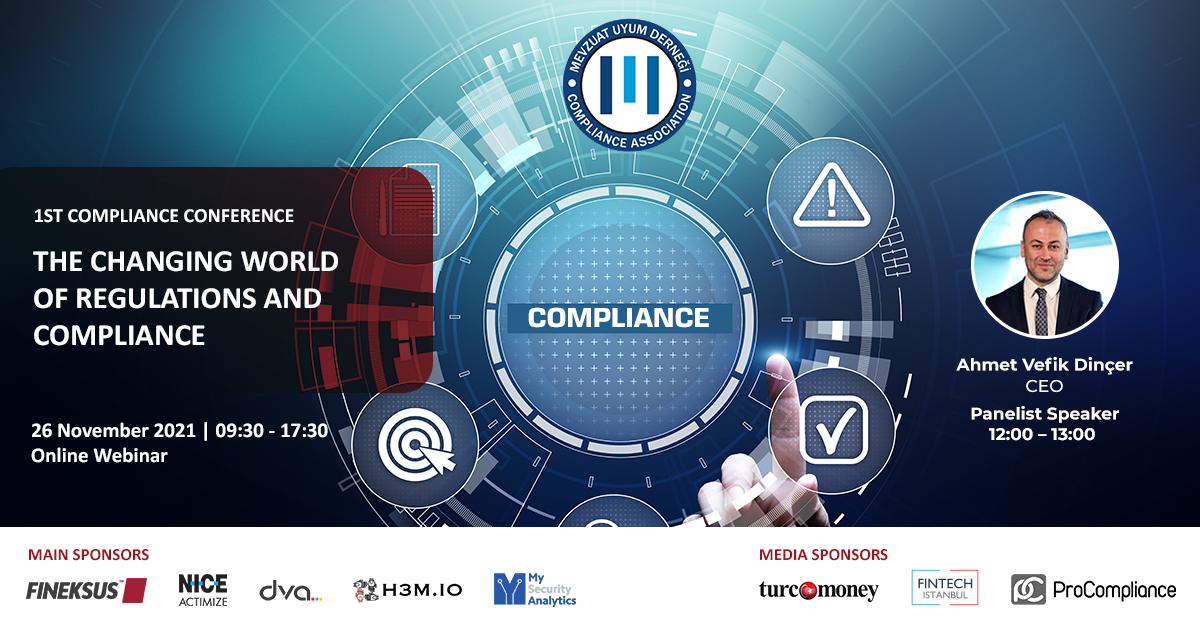 1st Compliance Conference
Fineksus will be among the main sponsors of the 1st Compliance Conference on November 26th, 2021.
Compliance function plays a critical role in the effective management of compliance risks, the prevention of fines, financial and reputational losses in today's world where regulations concerning compliance in each field and industry are on demand and increasing dramatically.
Compliance Association of Turkey will be hosting its first virtual event, The 1st Compliance Conference, which will take place on November 26th, 2021. Compliance Association of Turkey is an organization that continues its activities to guide the effective functioning and development of the compliance function, to advocate for good practices and to develop the competencies of compliance professionals.
The main theme of the virtual event will cover "The Ever-Changing Dynamic of Regulations and Compliance" on November 26, 2021, at 09:30 a.m.-17:30 p.m. (GMT+3). President of Banking Regulation and Supervision Agency (BRSA) Mehmet Ali Akben, Vice President of Personal Data Protection Agency Cihan Kanlıgoz and Chairman of the Board of the Compliance Association Gurdogan Yurtsever will start with the opening speeches of the virtual conference.
Fineksus, Turkey's leading Anti-Money Laundering (AML) and financial messaging software solutions company, will be among the main sponsors of the event to share and discuss 20 years of know-how in the banking and finance industry.
CEO of Fineksus, Ahmet Vefik Dinçer, will be a panelist speaker for the session "The Role of Regulatory Technologies (Reg-Tech) in the Management of Compliance Risks" which will be moderated by FinTech Istanbul Founding Partner and Istanbul University Faculty Member Professor Selim Yazıcı.
Besides Fineksus, other sponsors of the conference will be Nice Actimize, DVA Information Technologies, H3M.IO and My Security Analytics, while Turcomoney, Fintech Istanbul and Procompliance will support as media sponsors.
The schedule of conference program can be accessed from the official website of the Compliance Association, and participants will be able to attend to virtual event with free registration by filling out the form on the Compliance Association's official website.