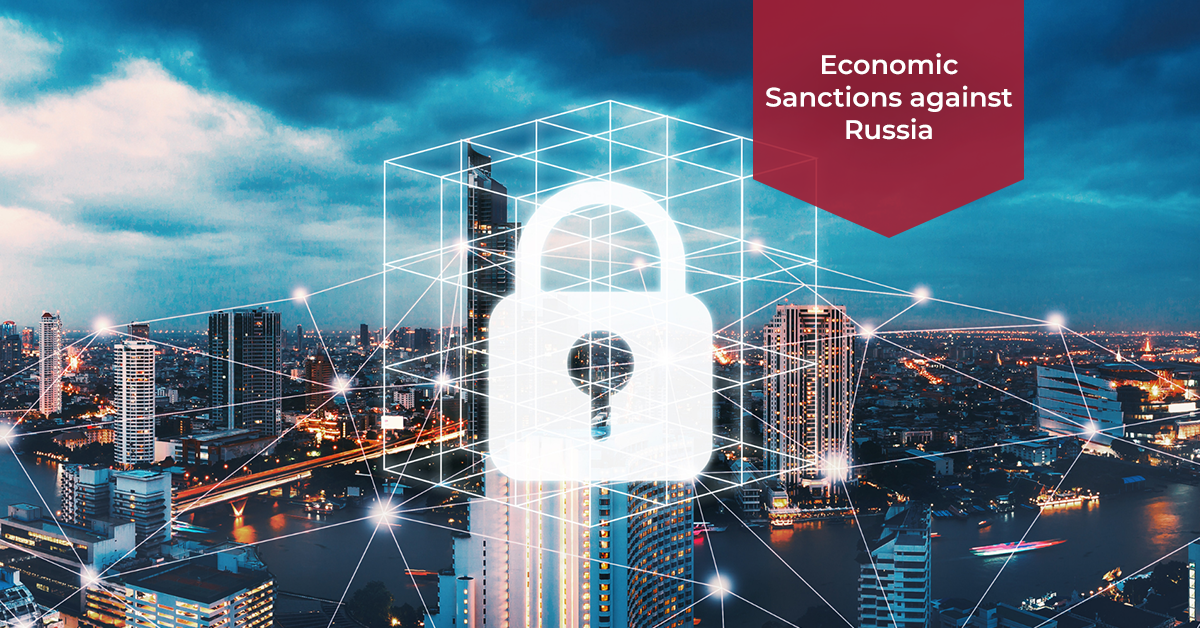 Economic Sanctions against Russia
US economic sanctions against Russia:
On 21st February 2022 Presidency of the USA declared and issued Executive Order(EO) for banning any financial transactions in relation with the Luhansk and Donetsk Regions.
Following days, USA issued economic and financial restrictions and prohibitions towards Russia due to military attacks on Ukraine:
Any transactions with Central Banks of Russia, National Wealth Fund of Russia and Ministry of Finance are banned and prohibited.
Russian Banks are blocked from SWIFT cross-border payments systems to ban all international transactions of Russia via SWIFT system
Additional economic sanctions and trade embargos are issued with European allies.
EU economic sanctions against Russia:
European Union (EU) imposed economic and financial sanctions against Russia due to un-official recognition of Luhansk and Donetsk regions by Russia as of 22nd of February, 2022. Additional sanctions and prohibitons listed below are issued by EU due to Russian military attacks towards Ukraine:
EU issued a ban on transactions to/from more Politically Exposed Persons (PEPs) and Relatively Close Associates (RCAs) of Russia and blacklisted more PEPs and RCAs to prohibit any financial transaction to/from Europe.
EU recognized the banning of Russia and Russian banks from SWIFT cross-border payments system to block international transactions of Russia via SWIFT network.
EU banned and prohibited steel and luxury goods imports/exports to/from Russia.
EU also blocked and prohibited any transactions to/from Russian Central Banks and Finance Ministry as USA and Japan.
EU plans to issue restrictions on exports of gas and fuel from Russia as further sanctions.
UK economic sanctions against Russia:
United Kingdom (UK) also imposed economic sanctions against Russia on 22nd of February, 2022 by prohibiting financial transactions to/from some Russian banks and Politically Exposed Persons (PEPs) listed below:
Sanctioned Banks: Promsvyazbank PJSC, Black Sea Bank for Development and Reconstruction, Rossiya, IS Bank, Genbank JSC
Sanctioned Politically Exposed Persons (PEPs): Gennadiy Nikolayevich Timchenko, Igor Arkadyevich Rotenberg, Boris Romanovich Rotenberg.
UK government banned Russia from SWIFT payment system for blocking to/from international transactions from/to Russia.
Transactions to/from Russian Central Bank, Finance Ministry of Russia and Russian National Wealth Fund are also banned/blocked by UK government due to military attack of Russian government towards Ukraine.
The UK government also announced a ban on high-end luxury goods export to Russia, as well as increased import levies on hundreds of vital products.
The UK will deny Russia and Belarus access to Most Favored Nation tariffs on hundreds of their exports, depriving both countries of significant WTO benefits.
The UK government has published an initial list of £900 million in products, including vodka, that would now face an extra 35 percent duty on top of existing duties.
The United Kingdom and its G7 partners will restrict the shipment of luxury products to Russia.
What Sanctions Have Been Imposed on Russia?
The UK and EU have prohibited the shipment of luxury items to Russia, including automobiles, high-end fashion, and art. The United Kingdom will also impose a 35% duty on many Russian goods, including vodka.
The UK, EU, US, and others are also restricting the export of items used by Russian enterprises.nIt contains dual-use materials, such as chemicals and lasers, which serve both civilian and military purposes.
All Russian planes have been barred from entering the airspace of the United States, the United Kingdom, the European Union, and Canada. Private planes rented by Russians have also been prohibited in the United Kingdom. The G7, an organization of the world's seven wealthiest nations, is depriving Russia of its 'most favored nation' status, which means it will lose significant trade advantages.
The United Kingdom, the European Union, and the United States have slapped sanctions on hundreds of Russian regime members and rich business executives known as oligarchs who are deemed connected to the Kremlin.
Former Russian President Dmitry Medvedev and Defense Minister Sergei Shoigu have been barred from leaving the country and their assets have been frozen by the United Kingdom. Along with the EU and the US, it has sanctioned 386 members of the Russian parliament. Chelsea FC owner Roman Abramovich was also sanctioned by the UK.
The United States has banned all Russian oil and gas imports, while the United Kingdom will phase out Russian oil by the end of 2022.
According to US Vice President Joe Biden, it is aimed at "the primary artery of Russia's economy." The EU, which imports a quarter of its oil and 40% of its gas from Russia, has stated that it will transition to other suppliers and become independent of Russian energy 'far before 2030.' Germany has put the opening of the Nord Stream 2 gas pipeline from Russia on hold.
How Has Russia Reacted to Sanctions?
Russia has prohibited the export of over 200 items till the end of 2022. It comprises telecommunications, medical equipment, vehicles, agriculture, electrical equipment, and wood.
It has also more than quadrupled its main interest rate in an attempt to halt the rouble's slide. Furthermore, it is preventing international investors who own government bonds from receiving interest payments, and it is prohibiting Russian enterprises from paying abroad shareholders.
It has halted the sale of Russian equities and bonds held by foreign investors worth billions of dollars. Russia has also threatened that in retaliation to oil sanctions, it may cut off the gas supply.