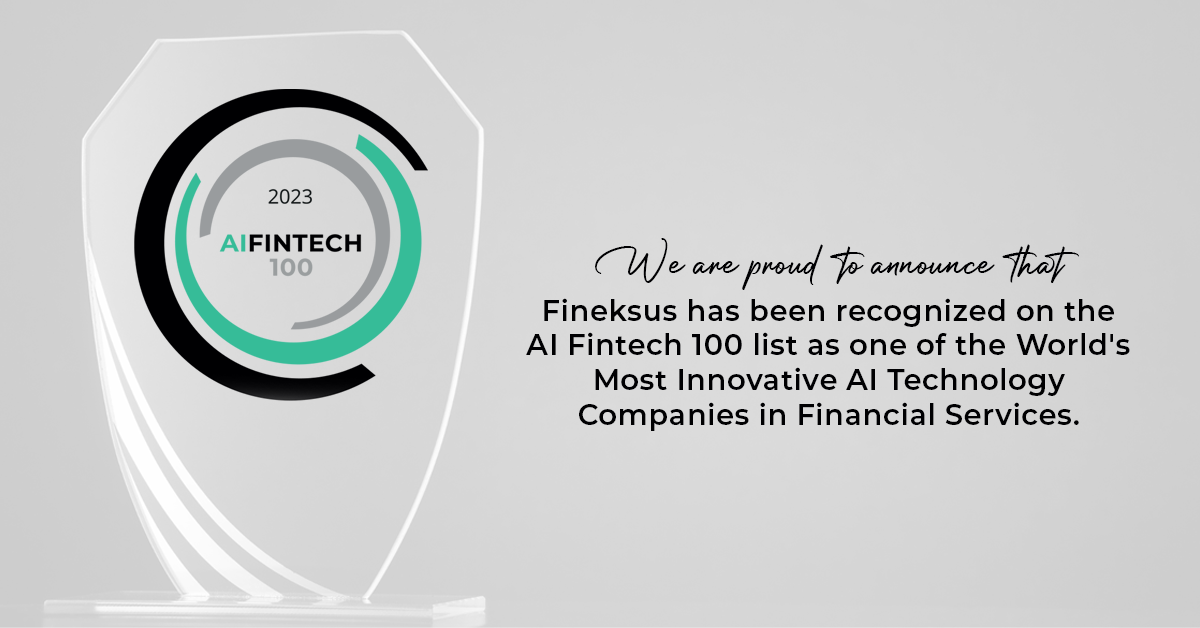 Announcement: Fineksus Named in World's Most Innovative AI FinTech 100 List
We are thrilled to announce that Fineksus has been recognized on the AI Fintech 100 list as one of the World's Most Innovative AI Technology Companies in Financial Services. This achievement highlights our relentless commitment to technological excellence and positions us among the industry's most innovative companies.
The AI Fintech 100 Ranking List is renowned for its rigorous evaluation process, assessing companies based on their groundbreaking advancements, industry influence, and transformative impact. We are honored to have stood out among fierce competition and to be acknowledged for our contribution to the financial technology landscape.
Fineksus' dedication to innovation and our passion for pushing the boundaries of what's possible have propelled us to secure the Top 100 ranking in the highly competitive "Artificial Intelligence Tech Innovators" category around the world. This recognition is a testament to our team's unwavering pursuit of cutting-edge solutions that address the evolving needs of our clients and the financial services industry.
Our success can be attributed to our visionary employees, strategic partners, and valued customers who have supported us throughout this journey. We extend our deepest gratitude to each and every one of you for your trust, collaboration, and shared belief in our mission to revolutionize the financial services industry.
At Fineksus, we are driven by our core values of excellence, problem solving, and customer-centricity. This recognition in the AI Fintech 100 List further reinforces our commitment to delivering innovative, high-quality solutions that empower our clients to thrive in a rapidly changing financial landscape.
Once again, we extend our sincere appreciation to the AI Fintech 100 List for recognizing our achievements and to our incredible community for their continued support. Together, we will continue to shape the future of the financial services industry.
Download the full list of the AIFinTech100 and learn more about our AI powered AML solutions and detailed information of other AI Fintech 100 companies via www.AIFinTech100.com.
Stay connected with us on our social media accounts to stay updated with our latest innovations, industry insights, and upcoming events.
Sincerely,
Fineksus