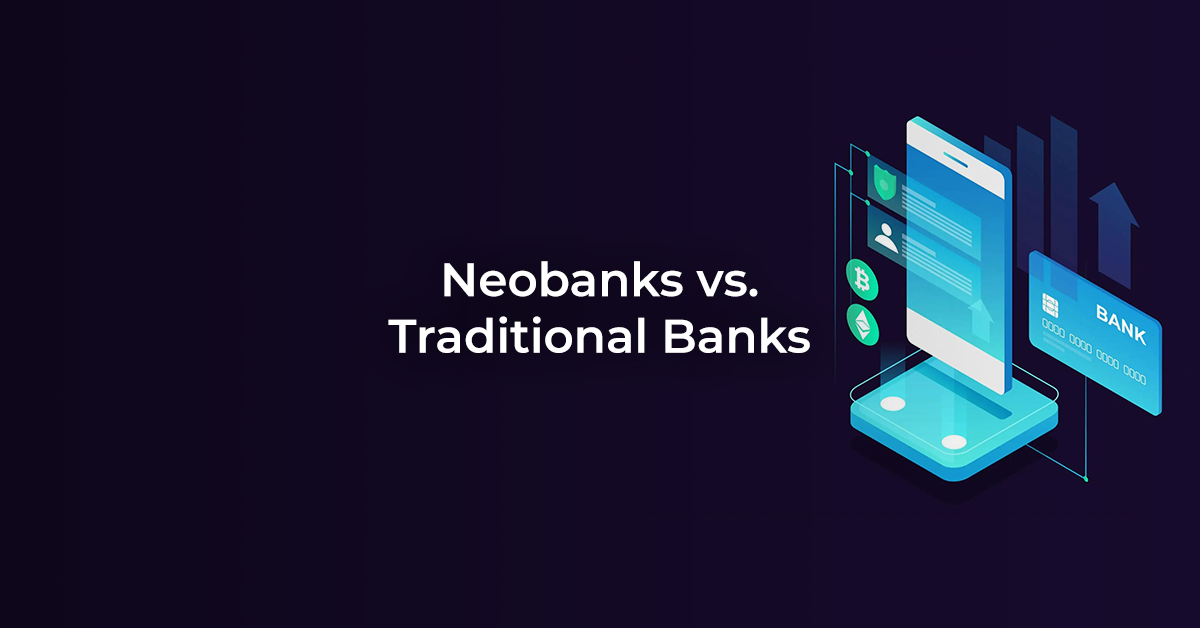 Neobanks vs. Traditional Banks: Definition, Differences and Impressions
As the advancements in the internet era altered the way people experience the world evolving around the concepts like pace, online and free, it was inevitable for the "neo" (new) trend in the banking industry to emerge to catch up with the new demands of the consumers. Neobanks, also referred to as digital-only or online-only banks are a new type of financial institution that aims to revolutionize the banking industry. By only providing services via digital platforms with smaller and more transparent fees,  the neobanks challenge the traditional banks and fuel the competition in the industry. However, in many cases, the offerings of neobanks remain limited in comparison to traditional banks which in turn helps them decrease their risks and costs. With their pros and cons, neobanks have ignited the wick of change in the financial world and it is likely that more people will prefer to use them for their banking needs as long as the digitalization trend prevails.
What are Neobanks?
Neobanks are the new-age, digital-only banks that do not have any physical location and operate through online services via a website or mobile app. The services they provide are completely digital including but not limited to mobile-first financial solutions for payments, current accounts,  money transfers, debit and credit cards, lending and investment products. Typically, they do not hold a traditional banking license, therefore they cannot operate by themselves but they are often licensed as e-money institutions. Alternatively, they can make partnerships with licensed banks in order to offer financial services to their customers.
Neobanks, by nature, are developed to be user-friendly, especially for the tech-savvy customers who are eager to benefit from the advantages of a digital service which are ease of use and access, real-time notifications, budgeting tools and more personalized financial service in the case of neobanks.
Differences between Neobanks and Traditional Banks
The fact that the neobanks are fully online, without a need of a physical branch is the main difference that is connected to other differences between neobanks and traditional ones. As neobanks do not have physical branches, they do not have extra expenses such as rent, infrastructure, electricity and others that constitute a big portion of the traditional banking expenses. As a result, neobanks have the advantage of diminishing the customer fees and offering higher interest rates thanks to these savings.
Another advantage of not owning a physical branch is that neobanks can spare more resources for the customer service compared to the traditional banks. They offer more personalized and interactive banking experience with a highly responsive and efficient customer support service. They value building trust and loyalty in their relationship with their customers by taking a more transparent and clear stance in their way of doing business.
As they are solely offering services on the online banking, neobanks are expected to be more technologically enhanced. Their potential customers are people who prefer to make use of the digital services for obvious reasons such as pace, instantaneity, automation, personalization and technological features. To satiate this demand, neobanks offer digital-specific features to their customers such as real-time notifications, budgeting tools, and personalized financial advice.
How Do Neobanks Affect the Financial World?
 The expansion of neobanks in the financial world is increasing with an accelerating pace. They are challenging traditional banks by offering more affordable and convenient services to customers which forces traditional banks to invest on their digital services and ameliorate their online banking offers. Therefore, the fact that neobanks are increasing the competition in the banking industry,  actually pushes the traditional banks out of their comfort zones and contributes to a better digital banking experience for all the customers of either neobanks or other financial institutions.
In that respect, it is possible to deduct that neobanks are also driving innovation in the banking industry. Since their one and only service area is the online world, they are required to constantly experiment with new technologies and features, such as artificial intelligence, biometrics, and blockchain, which are helping to make banking more secure and efficient. These innovations are also directly linked to improve the customer experience, and are making it easier for people to access financial services.
Neobanks also help decrease the number of underbanked population as they provide the online banking services to those who do not have the possibility to access the traditional banking options.
In addition to the tangible features, neobanks are affecting and changing the way people think about banking. They are offering services to educate customers about the importance of budgeting, savings, and investing, and are making it easier for people to manage their finances. Basically, neobanks are empowering customers by giving them more control over their financial lives.
Rethinking the Banking Industry
To sum up, Neobanks are a new type of financial institution that is revolutionizing the banking industry. They differentiate themselves by operating only through digital platforms and offering a wide range of financial services to their customers. Traditional banks are challenged by neobanks as they present more cost-friendly and easy-to-access services. As society turns to more digital solutions in every aspect of life, the tech-savvy consumers tend to prefer innovative financial services that offer the most effective solutions for their banking needs. Most importantly, neobanks are changing the way people think about banking and reconstructing their perception of a bank.  So, if the traditional banks intend to be long-lasting in the evolving financial world, they need to realize the importance of the online services and catch up with the digital developments that neobanks are already working on.
Gökçe Gence, Solution & Project Director