SWIFT Regional Conference: Turkey & Middle East
SWIFT Regional Conference brought together more than 250 policymakers, industry leaders, regulators, and financial experts from this diverse region of Istanbul to do business and shape the future of the financial sector.
The two-day program was a mix of keynote speeches, interactive panel sessions, and practical workshops featuring senior speakers and strategic thinkers from across the industry and region. This year's agenda was 'Enabling the Digital Economy' with an in-depth look at key trends in the region, including the next generation of payments and specifically how new and disruptive financial technologies are re-shaping the market and putting pressure on traditional models.
Enabling the Digital Economy
With cyberattacks becoming more sophisticated, better organized, and better funded, the event focused on what banks can do to protect themselves from the cyber threat, and the role of lawmakers and regulators in supporting them.
Serkan Sevim, Bernard Ferran, Alain Raes, and Özlem Gürses discussed how to transform the future and how to drive growth and stability. Serkan Sevim (Board Member, TUSIAD) explained that in order to create a digital market, a suitable environment must be created and be pushed to the masses.
How financial institutions (especially banks) are prepared for the technology of the future, what they do, and what they should do, how the technology is transformed were among the topics that were discussed.
It was underlined in all sessions that the concept of trust should be kept in the forefront while financial services are transformed into a digital economy.
It was also stated that financial institutions and stakeholders in order to trust and invest, governments should take the necessary measures to support investors and financial institutions in terms of financial and monetary policies, taxes, and regulations.
During the event, participants further underlined that the digital economy brings risks.
The Future of Payment
It was emphasized that the adaptation of financial institutions and central banks systems to the new technology is critical.
Mobile payment is the payment tool of the future. With the adoption of APIs and Open Banking, will take mobile payment to another level.
Cryptocurrency and & blockchain will disrupt the Financial Industry. We can see how blockchain is a prime example of disruptive technology for the banking sector. The world is changing, and the way people do everything is different, and this is also down to technology.
The main factors affecting banking are:
Open APIs
Advanced Analytics / Artificial Intelligence / ML
Speech Interfaces (chatbots)
Cloud
Mobile & Wearables
Robotics Process Automation
Internet of Things
Blockchain
Quantum Computing
Virtual Reality
Global Payment Innovation
SWIFT introduced its new product SWIFT gpi (global payment innovation). It will increase the speed, transparency, and cost-effectiveness of the payment systems.
The fact that the transactions are now traceable was very well received. In conventional banking, the transfer costs were not known exactly. This problem is solved with Swift GPI. With end-to-end transparency of a transaction, we can see the exact fee for each bank and the whole journey with the bottlenecks.
Financial Crime Intelligence
Swift will launch compliance analytics in November. Compliance Analytics identifies direct and indirect flows and provide access to F(ield)50 and F(ield)59.
As Fineksus we provide Anti Money Laundering applications powered by AI in order to assist financial institutions to meet their AML compliance requirements and tackle financial crimes.
Bank and regulators told that their financial crime compliance focus is on:
Effective system
Processes and policies
Transparency
Complexity
Cost pressure
Attestation / Certification
Quality Assurance / independent testing
Technology Platform Evolution & Innovation
Open banking has become a global phenomenon. With the help of open banking, banks will be able to integrate with each other and develop products that provide added value. Banks are technological companies with financial facilities.
Open banking will enable customers to access all their transactions from one platform and communicate with service providers, customers, and financial institutions on the same platform.
You can also read our blog post "Open API Framework in the Banking Landscape: Threat or Opportunity?" from here.
Business Intelligence – It's All About Data
Swift stated that as a provider, they keep all the transactions passing through SWIFT. So that they can provide its customers with this data and market information.
The Adoption of ISO 20022
Payments are changing from Swift MT to ISO 20022 format. It is stated that the XML structure will be used in ISO 20022. So that information will become standardized with Swift's global ISO 20022 standard.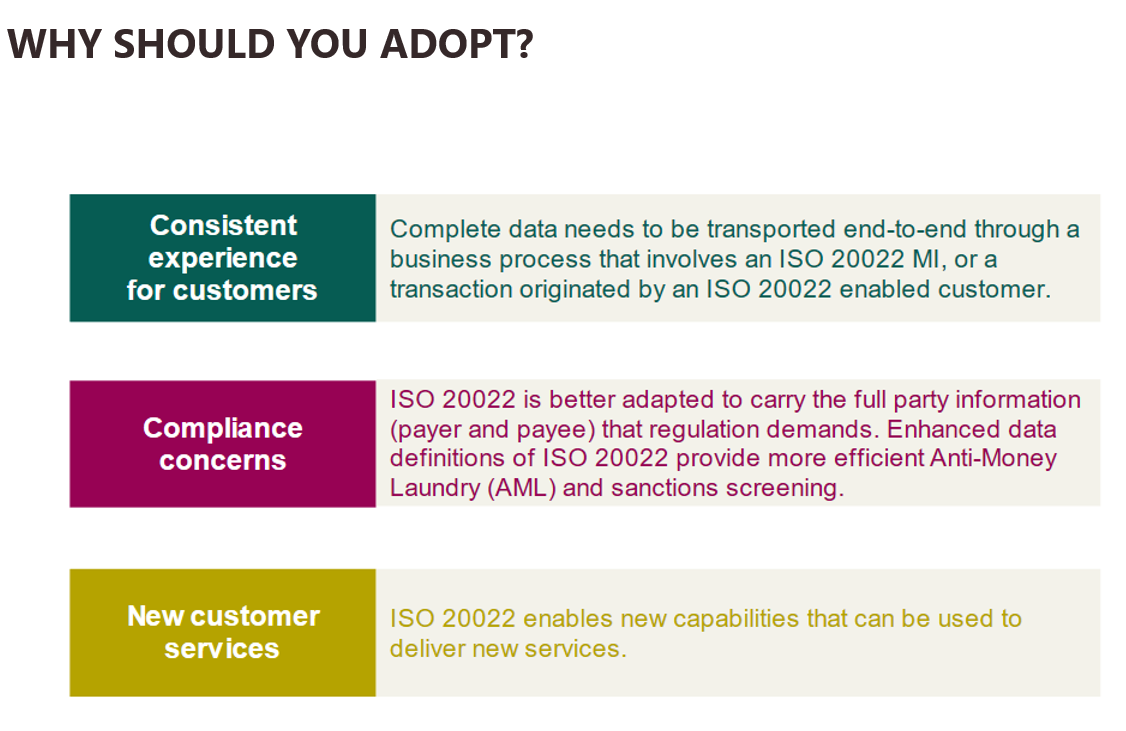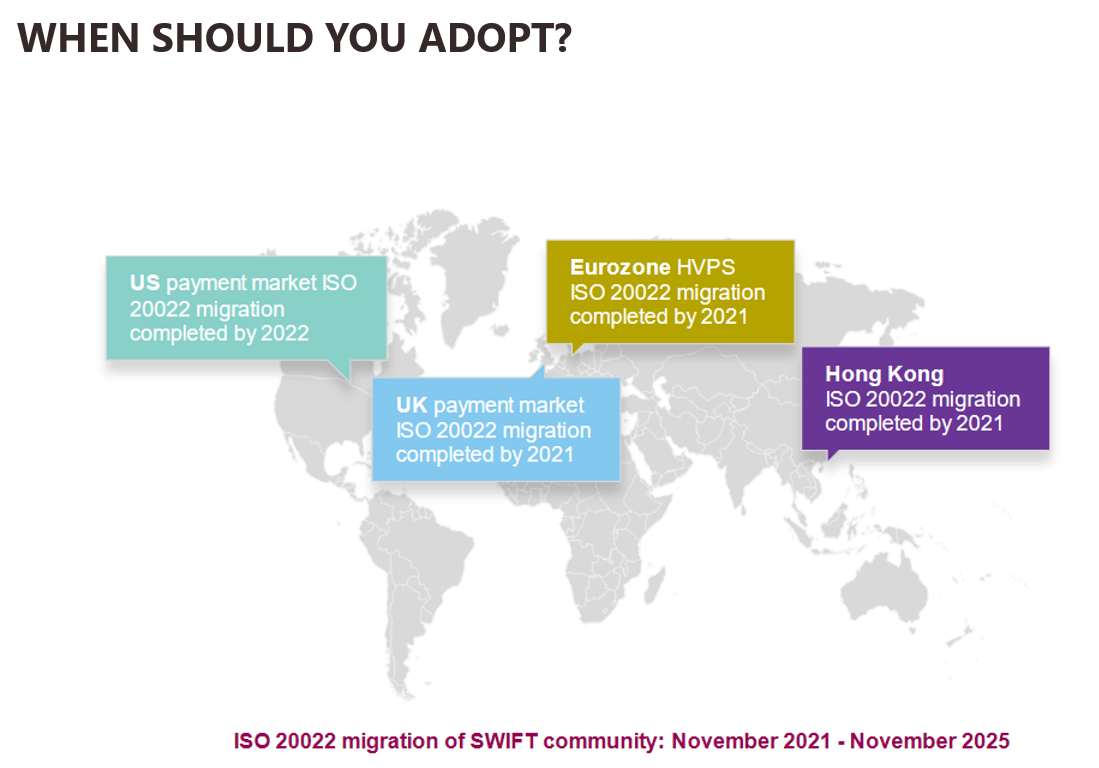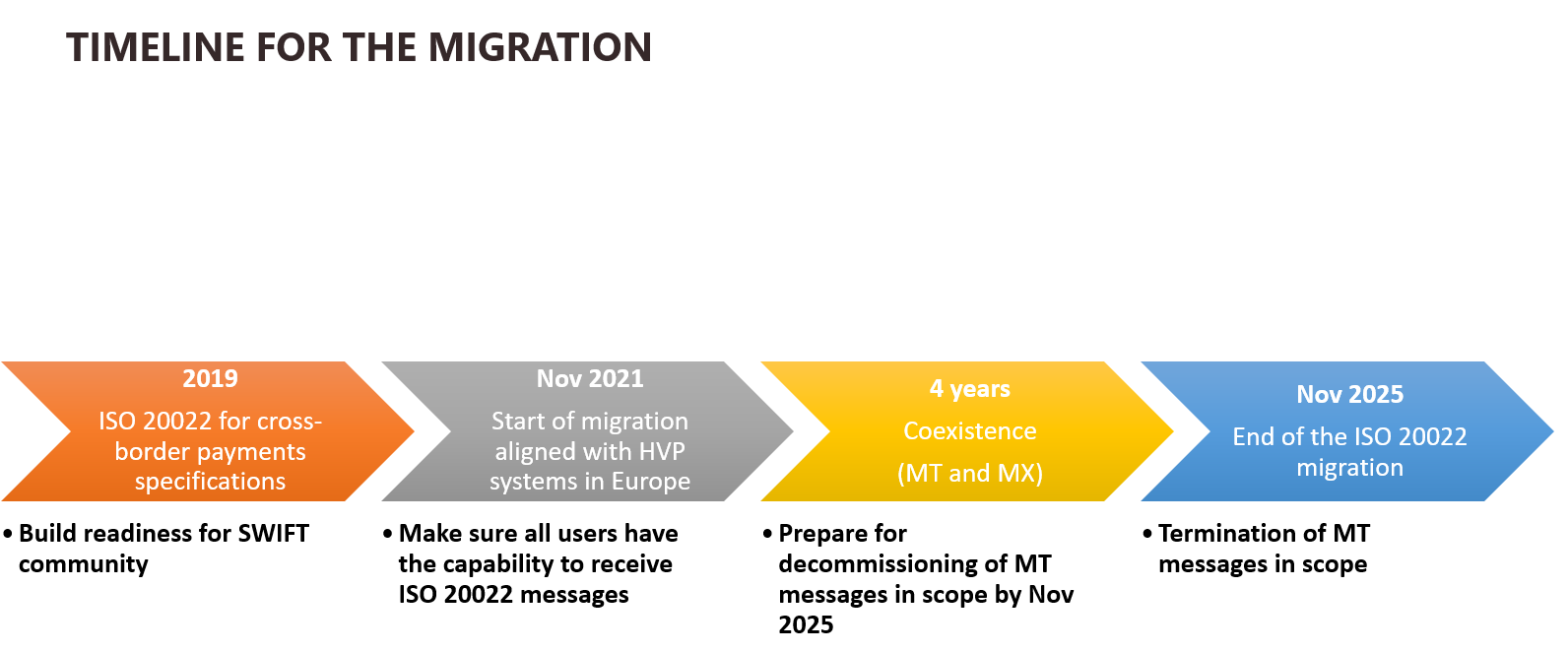 Nurdan Karakış, Business Consultant / Business Analyst