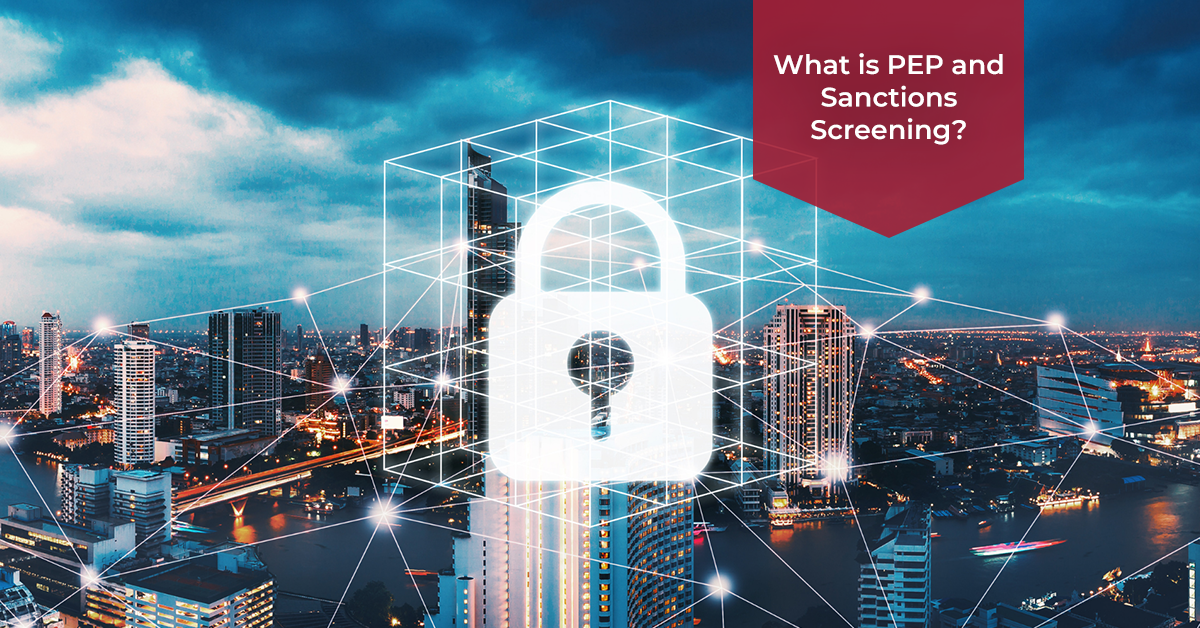 What is PEP and Sanctions Screening?
PEP and Sanction Screening is part of an AML Compliance process for identification and verification of Politically Exposed Person (PEP) and blacklisted individuals in public and private sanction lists; which is conducted by banks, fintechs and other financial institutions as well as big corporates. Their verification is significant since PEPs and Sanction listed individuals are capable of having a direct or indirect influence on the organizations which they are involved in positions of power.
To stay in compliance with local and international standards and avoid serious penalties, all financial institutions are obliged to do Know Your Customer (KYC) and Anti-Money Laundering (AML) procedures. PEPs and Sanction list checks are needed continuously and inspected regularly by regulatory authorities, which may be time-consuming and costly for banks and other financial institutions to maintain these procedures. It's vital to choose the correct provider and solution for PEP and Sanction Screening to comply with regulations and to maintain a sustainable financial eco-system.
What is PEP screening?
A Politically Exposed Person (PEP) check, also known as a PEP sanction screening, is searching official politically exposed people lists to see if the prospective or current customer is on that list during client identification or transaction screening processes. Anti-Money Laundering (AML) and Know Your Customer (KYC) regulations require PEP screening. It entails verifying a customer's identification to see if they are a Politically Exposed Person (PEP) or not. While banks and other financial institutions are able to legally engage with individuals on the PEP lists, they must take additional due diligence efforts during Customer onboarding to avoid any AML penalties.
PEP sanction screening is high-risk customers. PEP List Screening is a  process of identifying Politically Exposed Persons and assessing their risk profile for the financial institution. It is a necessary screening for the most effective execution of Anti-Money laundering (AML) compliance measures, particularly in banks, fintechs and other financial institutions.
What is the sanction screening?
Sanctions are actions taken by governments to limit commerce and official interaction with a country that has violated international law. The Sanction Screening Service assists businesses in detecting financial crimes and adhering to AML/KYC rules conducted by international and national regulatory authorities. There are many people, organizations, and even countries that are subjected to sanctions by law enforcement around the World, and these sanction lists are released by public authorities like OFAC and SEC as well as global private enterprises such as Dow Jones and World-Check.
What is PEP in background check?
A PEP background check, or Politically Exposed Person background check, is a due diligence process for clients who occupy a prominent position in state enterprises, such as a senior member of government or law enforcement and is, therefore, may be more exposed to be directly or indirectly involved in a financial crime.
Sanctions searches and PEP sanction screening are important parts of your AML checks since they ensure that your customer is does not project a financial crime risk. PEP and sanctions checks are an obligatory process to identify high-risk applicants and give you the warning and information you need to reduce any regulatory or reputational damage.
Why is PEP screening important?
A PEP sanction screening is an important part of the Know Your Customer and name screening process since it helps financial institutions to assess a customer's risk potential. Because PEPs have public clout and control over government contracts, it's critical to pay close attention to their financial transactions to avoid risk of financial crimes. While working with PEPs is not illegal, their presence for the initial onboarding process and financial transactions offer a larger risk to financial institutions. As a result, all FIs and even corporates should acknowledge whether a customer is on a Sanctions list or PEPs list in order to assess the risk of doing business with them.
Why is sanctions screening important?
Financial crimes such as money laundering and financing of terrorism pose a significant danger to organizations, and the rate and varieties of financial crime are increasing as technology advances. To prevent being harmed by these financial crimes, businesses must take a number of safeguards. Some restrictions are followed by regulators in order to safeguard financial institutions from financial crimes. Regulators also restrict transactions with people who have been sanctioned by governments or regulatory authorities. Financial transactions are also restricted due to economic sanctions and embargoes of trade policies of some countries.
The most significant advantage of PEP and sanction screening is the operational efficiency for Compliance Officers. Banks and other FIs are also protected by Sanction Screening services against false inquiries during Customer onboarding or financial transactions. Financial crimes can be detected using screening software. Every day, banks, payment firms, and other financial organizations conduct millions of financial transactions. Financial crimes are included in these transactions. Firms must monitor transactions to ensure that they meet regulatory standards. FIs can use sanction screening systems to combat money laundering, corruption, financing of terrorism, bribery, and other financial crimes.